U2D Aprenia - the Swiss Army Knife among LXPs
By
Maximilian Karg
·
4 minute read
Are LMS and LXPs in direct competition with each other nowadays? The wide range of LXPs tempts to think that Learning Experience Platforms are displacing seminar management. Find out why this is not the case and what Aprenia has to do with the "cult" knife from Switzerland in this blog.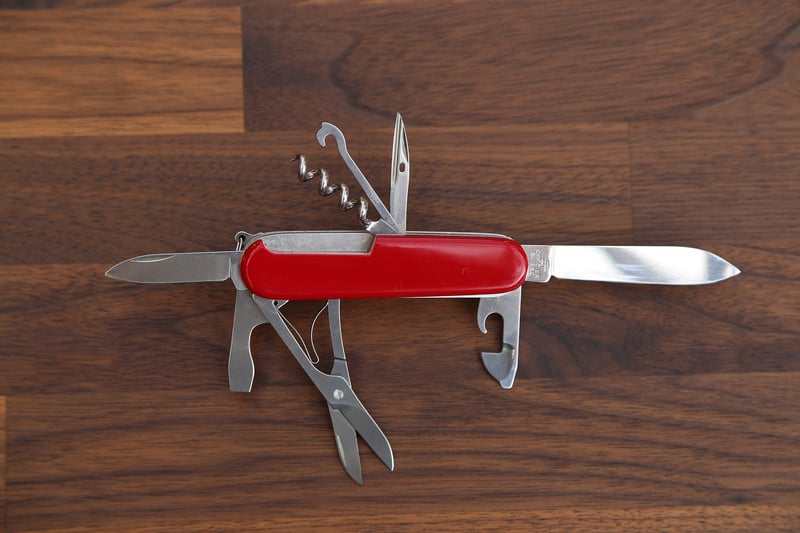 The duality of LMS and LXP: fact or illusion?
Learning Management Systems (LMS) such as U2D Semiro have long been an integral part of an increasingly digital business culture. In the area of seminars and employee training, those are indispensable. LXPs emerged from the LMS sphere and have since enjoyed lively growth and a growing community that can no longer imagine working without an interactive learning platform. Especially the younger generations are strongly oriented towards e-learning platforms, as they have grown up or into a digital world. The conclusion that LXPs will replace LMSs is quickly drawn - LXPs appear more flexible to the outside world, the approach is more modern, and employees feel better addressed. But when the two are compared, it becomes clear that this is a fallacy.
The concrete idea for Learning Experience Platforms comes from the insights gained through the use of LMSs. They laid the foundation and today form the basis for a digital "top-down" learning culture in which the employees of a company are to be guided through complex processes with the help of seminar organizers in order to be able to process the management processes better.The LXP takes a different approach.The intuitive learning platforms allow for easy knowledge transfer through a fun and social learning experience, with the goal of enabling self-directed and sustainable knowledge transfer. The graphic below explains the differences of both tools based on topics.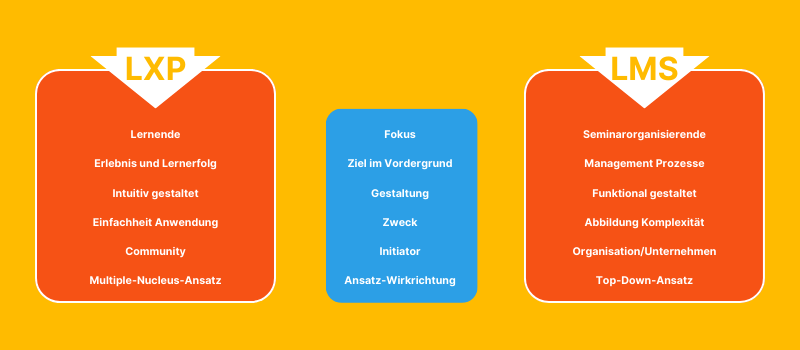 Due to the ever-faster development of mankind - partly as a result of digital innovation - two attributes have visibly come into focus in the development of business software.On the one hand, the digital world is exponentially more fast-paced, which for the development of tools for business means that processes, trends and developments in the industry must be identified and implemented early.As a result, already existing concepts and structures have to be thought and lived flexibly in order to react appropriately and quickly to changes.
LMSs are therefore no less useful for the working world than LXPs, just because they have been in use for longer.Quite the contrary. It was only as the systems evolved that it became clear that new areas in e-learning needed to be explored. Today, both systems together cover the e-learning culture in the company and complement each other perfectly. Therefore, to answer the first question: No, the LXPs are not a threat to the already existing LMS structures. We at U2D have therefore created the possibility to offer our customers a combination of both programs if required - LMS meets LXP!
Unique Selling Point
Due to the successful formula of the LXPs, a new niche has formed over the last few years, which has already been successfully occupied by some providers from the LMS sector. Consequently, competition has increased and companies in this sector have to think about the Unique Selling Point (USP). This refers to the "unique selling proposition" of a product, brand or company, which is to be communicated externally to differentiate it from competitors. It is therefore understandable that the aim is to have a USP that is as clear as possible.
On the product level, this usually leads to a "feature USP". This means that features have a high functional scope and are not represented in this form in the portfolio of competitors. On the one hand, this is intended to achieve a general market advantage in a segment. On the other hand, interested parties may be better addressed by this type of USP and the more specific product presentation.
However, the implementation of a USP cannot only bring advantages. It must be tailored to the product, brand or company and should serve as an attractive additional feature - if it is a feature USP. Furthermore, it should only be emphasized in the external presentation to the extent that it does not become an overshadowing super feature that increasingly overshadows the product as such. A USP should always be the famous "icing on the cake" and not the line underneath. The selection of the right USP therefore needs to be carefully considered in every company.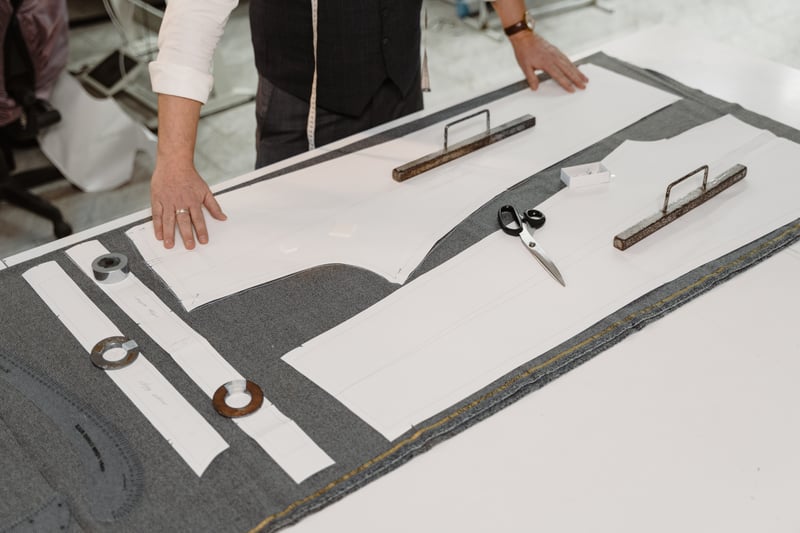 Aprenia - a pocket knife sized LXP
At U2D we do not follow the approach of a directly recognizable "Feature-USP". We place a special emphasis on offering our customers a development process that is as individualized as possible. Therefore, our promise as a company to our customers is:
"Digital premium solutions made to measure - We offer highly flexible software solutions for digital event and learning management".
But what does this promise, which is also a demand on ourselves, hold? It can be understood and perceived as a "process USP". It is about aligning our project processes with the requirements and wishes of our customers. At Aprenia, this results in a large number of specific use cases that have already been implemented in the past. It is not the prospective customers who have to settle for an existing product, but it is Aprenia that is designed and conceived around the customers' needs. Requirements for use cases are elicited in workshops. Developers work closely with customers to determine the exact requirements of the system. The workshop process also determines which interfaces and content providers are to be integrated into Aprenia. This implementation is also an integral part of the design process. Nice sentence, but unfortunately we have to gender: "In individual use cases, customers contribute their specific wishes." In this respect, our developers know (almost) no limits. Stephan Ottenschläger, Managing Director for U2D Aprenia, calls Aprenia the Swiss Army Knife among LXPs:
"Due to the different use cases, U2D Aprenia can also be called the Swiss army knife among learning platforms.The spectrum of use cases ranges from e-learning media libraries to the documentation of software or ISO processes to know-how transfer as part of onboarding."
As a software solution, LXP U2D Aprenia is highly flexible and adapts to the respective use case of its customers.Are you interested in a consultation or a non-binding demo with Stephan Ottenschläger? Via our meeting tool you can quickly book an appointment for a product demo and tell us your exact use case.
U2D Aprenia at the trade fair ZP Europe 23
We are on the road: U2D Aprenia and sister product U2D Semiro will be at Zukunft Personal Europe 2023 in Cologne!From September 12th to 14th you can find us in hall 5-1 at booth O.39. Our team will answer all your questions about the product U2D Aprenia!We are also happy to present our LXP via live demo.No ticket yet?No problem!We will provide you with free access to the fair.