Significantly increase know-how transfer with an LXP
By
Bjorn Beck
·
1 minute read
More and more companies are discovering the advantages of an open learning culture and the associated raising of the hidden wealth of knowledge in the company. An intuitive Learning Experience Platform (LXP) can effectively support this process as a knowledge management system.

What distinguishes an LXP from a classic LMS?
A learning management system (LMS) is - as the name suggests - very much geared towards the management and organization of seminars, training courses and learning content.
The focus is on the seminar organizer and process management.
This is usually based on a top-down approach, in which learning content prepared by the human resources or corporate learning department is distributed throughout the company.
Accordingly, most LMS are designed more functionally in order to be able to map the complexity accordingly.
With the newer Learning Experience Platforms (LXP), on the other hand, the focus is on the learner and his or her learning success. It should be fun to share knowledge and learn new things.
LXP are therefore much more intuitive and visually appealing.
Gamification and artificial intelligence are integrated into the systems to enhance the learning experience and reduce learning barriers.
New content should be created quickly and easily by learners and made accessible to the learning community.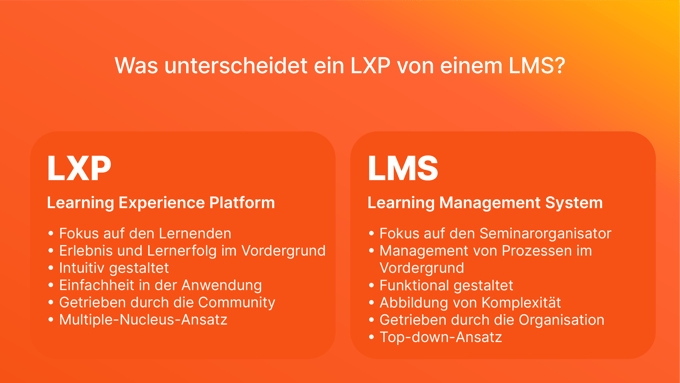 Success factors for an effective LXP
From our point of view, it is of crucial importance with an LXP to put the focus completely on the needs of the learners and thus ensure a change of perspective compared to the LMS.
Intuitive user guidance and an appealing look are the be-all and end-all to break down learning barriers and fully develop the potential of the learning community.
Gamification elements to use the urge to play and compete, as well as the support of a "smart companion" in the sense of an intelligent chatbot, round off the functionality of an effective LXP.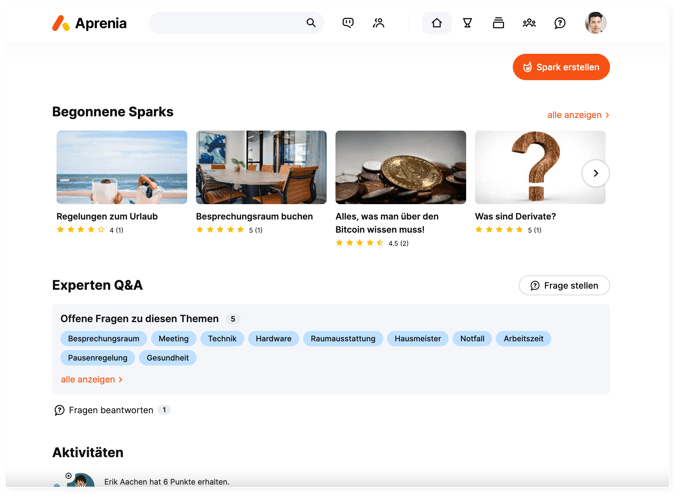 Social-Learning-Experience
Exactly this philosophy was incorporated into the development of our new learning experience platform U2D Aprenia and is underlined by the positioning "The most intuitive social learning experience for entrepreneurial know-how transfer".