ZP 2023 in Cologne: Recap
By
Maximilian Karg
·
2 minute read
With over 16,000 visitors in 2022, ZP Europe is one of the largest trade fairs of its kind in Europe. The trends in HR development and the HR sector are particularly noticeable at ZP Europe every year. Read this blog to find out which ones were in the spotlight at this year's fair!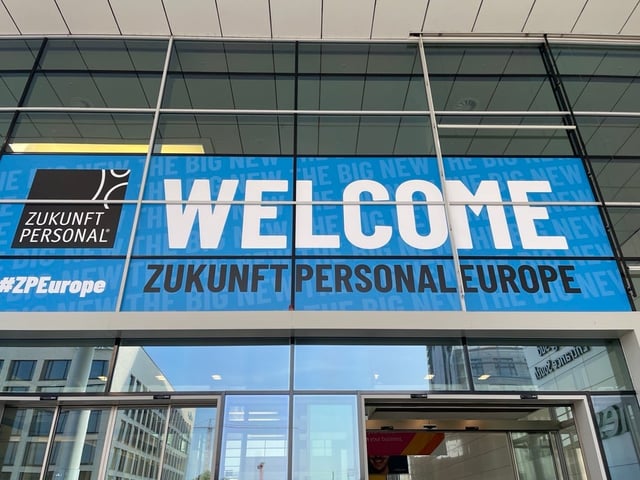 Zukunft Personal is a series of events that takes place annually and consists of the physical events of ZP Süd (Stuttgart), ZP Nord (Hamburg) and ZP Europe (Cologne). The trade fair team from U2D | up2date solutions GmbH is a guest exhibitor at ZP Europe every year. The trade fair always takes place in mid-September on the "Kölnmesse" grounds. ZP Europe extends over three exhibition halls. The exhibitor portfolio ranges from job exchanges like indeed or Stepstone to benefits from all sectors to e-learning providers and LXP providers. However, it was not only the exhibitors' stands that could be visited at the fair, but also the presentations by key note speakers and many other lectures on the topics of personnel development, employer branding, benefits, future trends and personnel training were part of the fair events.
Fair Hard Facts
ZP Europe offers a wide range of programmes designed to give visitors (and exhibitors) the most comprehensive and productive experience possible. A total of 600 companies presented their products at the fair and 16 keynotes, five highlight topics and 750 sessions were held on the 20 stages. The established stages and areas were there:
Keynote Stage
Solution Stage
Activity Stage
Workshop Area
Xing Messe Lounge
Live Training Area
Startup Stage
HR Round Table
Chimney Lounge
In addition to the "tried and tested" Places, there were a number of innovations at this year's ZP Europe:
New Media Lounge: sustainable cardboards with important magazines from ZP Europe's media partners were waiting here.
Corporate Influencer Club: Experts gave insights into the implementation of corporate influencer programmes.
Innovative People Lab: Agile coaches provide insights into opportunities to break routines and try out fresh methods.
ZP Friends Lounge: a new area for networking between Zukunft Personal partners and visitors
Future of Work: decision-makers can check whether their company is fit for the future
Development trends at the fair
Many exhibitors, many visitors, many opinions, views and insights. A HR fair like Zukunft Personal has the potential to capture future trends in the business world as well as few other fairs. Employees want to work in modern companies with the best conditions for them and to contribute their potential. The more potential, the more efficient the working world. This is precisely why the ZP holds great potential for the future of modern business efficiency.

This year's lecture and discussion topics at the fair were congruent with the general trends in the world of work. New Work, modern employer branding, e-learning/social learning management, digitalisation and especially the sub-theme of AI/AI took up a lot of space at this year's ZP Europe. These offensives are motivated by the shortage of skilled workers, the generational change - especially the coming departure of the "baby boomers" - the current tense economic situation and the megatrend of sustainability. That is why companies have to deal with the issue of a more modern HR management. The mood therefore went in one direction: departure!
The question of how to attract new qualified employees to one's own company was extensively addressed at ZP Europe. Employer branding, HR development, employee benefits, modern HR software - stands with innovative HR features such as Personio's enjoyed a high visitor rate - and e-learning structures with AI-based content on platforms such as LXPs were elementary core topics.
Outlook on trends in digital structures
At the latest since the widespread introduction of learning management systems, knowledge transfer has been digitalised in the corporate culture. As the change in HR is also a generational issue, the nature and implementation of the learning culture around companies is also undergoing a change. Employees claim not only to be part of learning management, but to actively shape the learning process and knowledge transfer. This is exactly why, in addition to many all-in-one e-learning providers, companies were also represented at ZP Europe that offer a combination solution of LMS and LXP as well as a stand-alone intuitive learning experience platform such as U2D Aprenia.