Release Notes: Aprenia 7.2 with new journeys
By
Maximilian Karg
·
5 minute read
Welcome back, dear readers! We are once again venturing into the world of knowledge management - this time with exciting news from U2D Aprenia. The latest update to version 7.2 primarily brings a new display of learning paths and configurable attendance confirmations.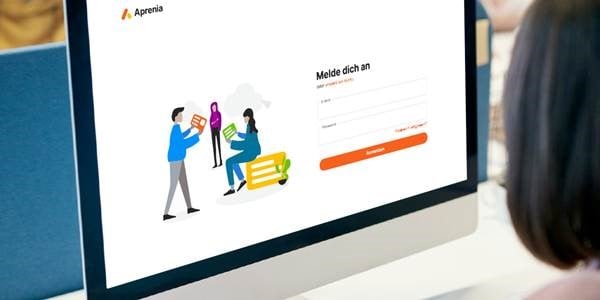 In an era where knowledge is considered true power, choosing the right platform for your knowledge management is crucial. U2D Aprenia is aimed at companies like yours, especially medium-sized and large companies that want to digitize and optimize their learning processes. Let's explore the latest features of U2D Aprenia 7.2 together.
General information about U2D Aprenia Release Notes
Before we turn to the highlights of version 7.2, let's take a brief look at the rapid development of U2D Aprenia. Since the last update (version 7.0), we have continuously worked on improving and developing U2D Aprenia. Our goal is to offer you as a company an advanced learning management system that meets your individual needs and is always up to date with the latest trends.


The last update (version 7.0) was already a major milestone for U2D Aprenia. It brought many new features and improvements that have made the learning experience even better and more effective. With the current update (version 7.2), we are continuing on this path and bringing even more exciting new features and improvements. We listen to our customers' feedback and take their wishes and suggestions seriously. This enables us to ensure that U2D Aprenia is always at the cutting edge of technology and offers you the best possible learning experience.


With the new features of U2D Aprenia 7.2, we offer you even more control and flexibility in the design and management of your learning content. We are convinced that these new features will improve your learning experience and help you take your knowledge management to the next level.
Feature: New display of the journey
The journey through the world of knowledge management becomes even more fascinating with U2D Aprenia 7.2. The new lessons view is the centerpiece of this update. Sparks, tests and events are now clearly available in a side menu. This gives you even more precise control over your learning content and makes it even easier to manage.

With the new functions of U2D Aprenia 7.2, you as a company now have even more options for designing and managing your learning content. You can choose between the proven path view and the new lesson view, depending on what best suits your organization's needs. No matter which view you choose, U2D Aprenia gives you the flexibility you need to optimize your learning processes.

The path view allows you to present your training and learning content in a linear order, guiding participants step-by-step through the learning process. This is particularly helpful if there are clear learning objectives and the content builds on each other.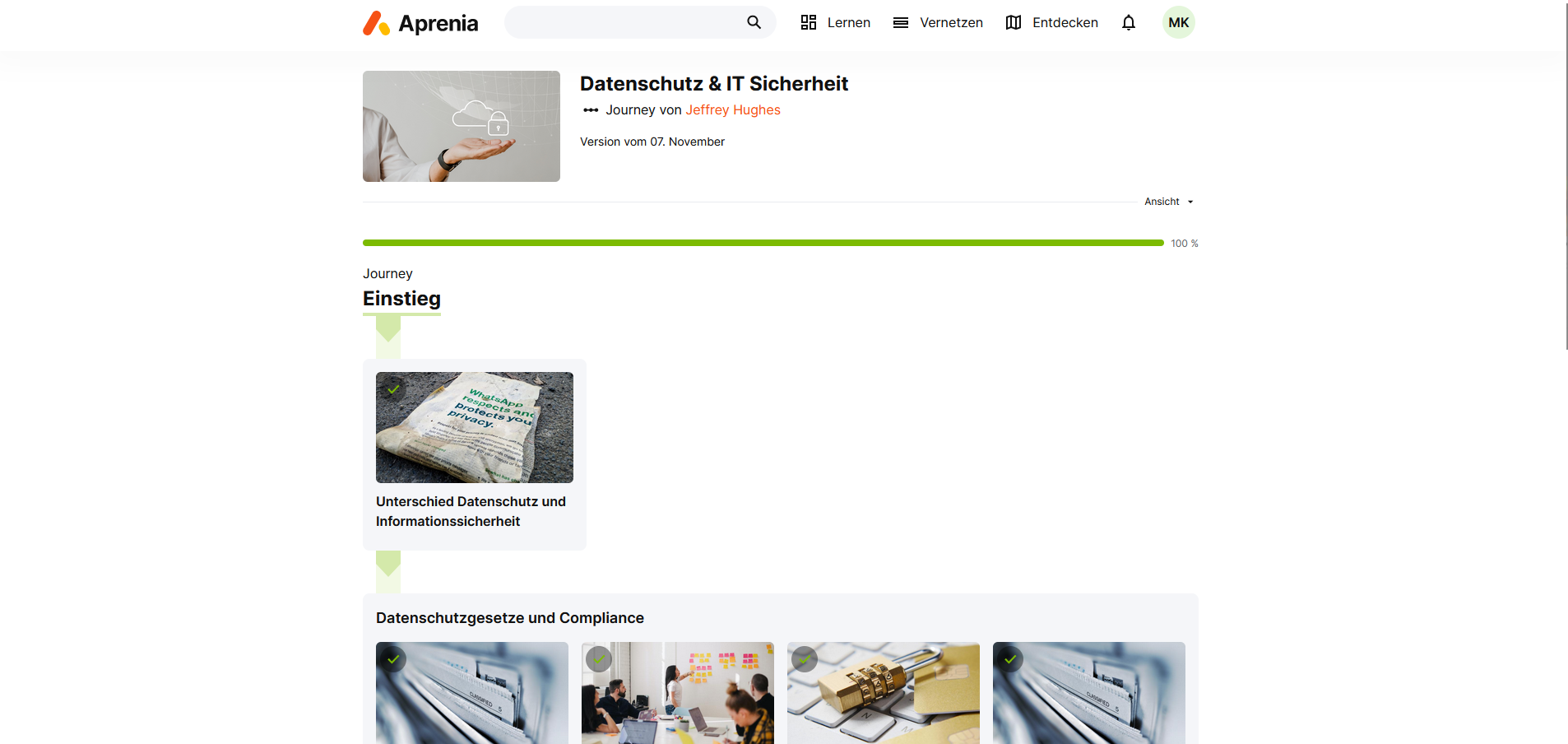 The new lesson view, on the other hand, provides a clear overview of all available lessons, Sparks, tests and events. Here, participants can decide for themselves which topic they would like to work on next and in what order. This flexibility allows learners to design their individual learning path and select the content that is relevant to them.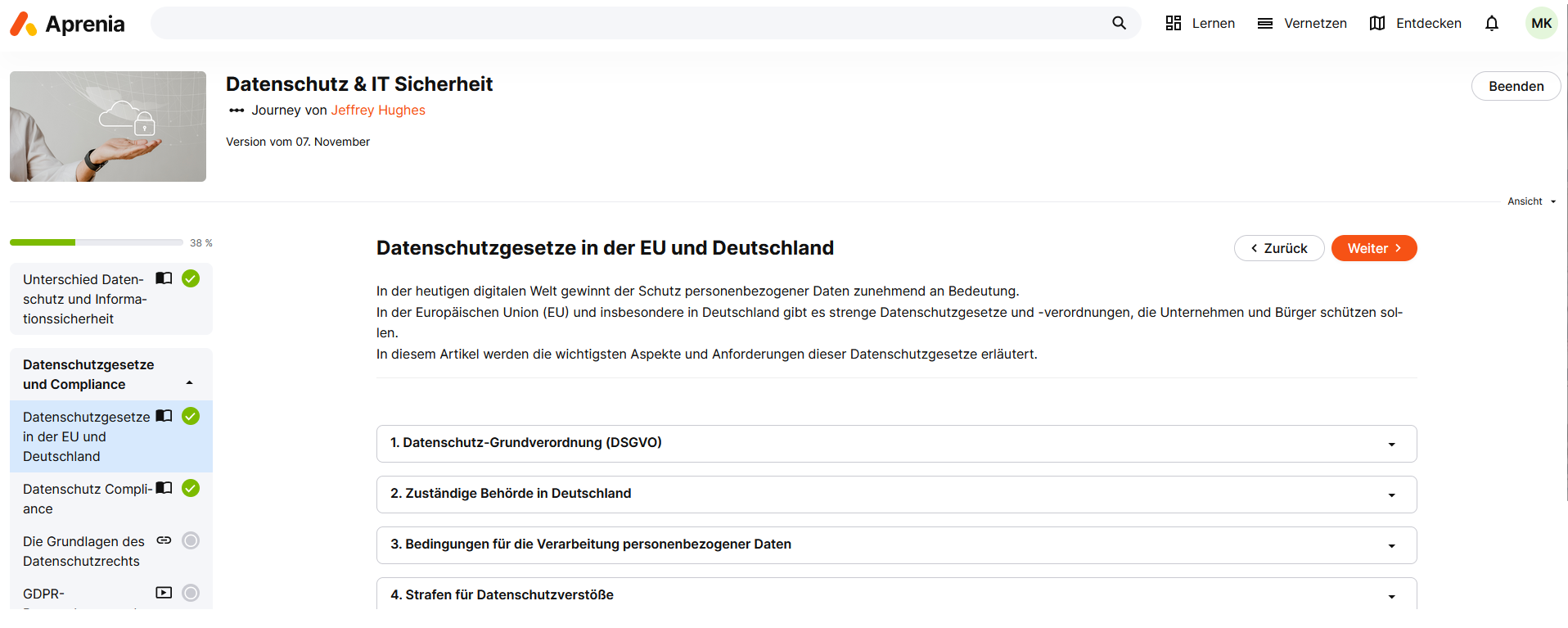 By introducing these new features, U2D Aprenia 7.2 enables an even more personalized learning experience. You can customize your learning content to meet the individual needs and preferences of your learners. This helps to keep learners motivated and engaged and enables them to achieve their learning goals effectively.

Discover the possibilities offered by the new features of U2D Aprenia 7.2 and learn how learning paths can take your knowledge management to the next level. Whether you choose the path view or the lesson view, U2D Aprenia gives you the tools to optimize your learning processes and provide your employees with the best possible learning experience.
Feature: Confirmation of participation

An exciting new feature in U2D Aprenia 7.2 is the ability to configure attendance confirmations for journeys and events. A milestone for companies like yours that value verifiable training. The generated certificates of attendance can be easily downloaded as a PDF - a simple but powerful feature.

This new function enables companies to prove and document participation in training courses and events. With the configurable attendance certificates in U2D Aprenia 7.2, you can create customized certificates that include specific information such as the attendee's name, the course or event, the date and other relevant details. This feature not only facilitates the administration and documentation of training courses, but also strengthens the credibility and value of the Aprenia learning management system.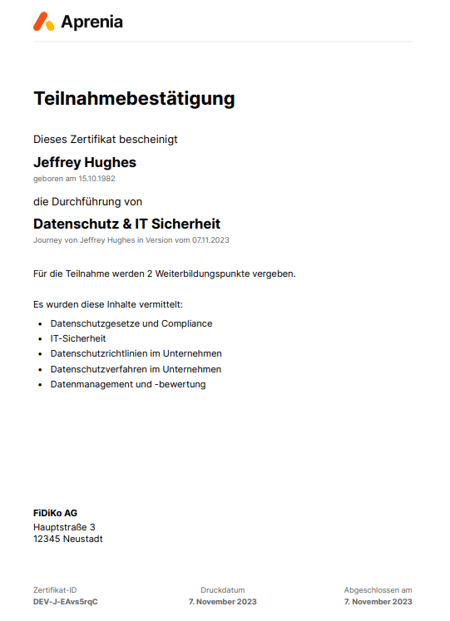 By being able to generate certificates of attendance, companies can show that they are professional and responsible when it comes to training their employees. This contributes to employee motivation and satisfaction and can also leave a positive impression on external partners and customers.

U2D Aprenia 7.2 enables companies to take their training and events to a new level and offer their employees and partners even more added value. This innovative feature helps companies to better plan, organize and document their training to maximize learning success and meet the individual needs of participants.
Feature: Accessibility

Accessibility is not just a buzzword at U2D Aprenia - it's a promise. Version 7.2 sets new standards with customizable text in the profile and support for forced color mode. These advances demonstrate our commitment to an inclusive learning experience.

Aprenia 7.2 goes one step further to ensure that everyone has access to learning content, regardless of potential barriers. With the ability to set customizable texts in the profile, users can take their personal preferences into account and optimize the presentation of texts. This enables better readability and increases accessibility for people with visual impairments or other visual limitations.

In addition, U2D Aprenia 7.2 supports the Forced Color mode, which allows users to adjust the color of the background and text. This makes it easier to read for people with color vision impairments or other visual challenges. By integrating these features into our platform, we ensure that all users have an accessible learning experience and can reach their full potential.
Our commitment to accessibility goes beyond technical functions. We are continuously working to make our content and materials accessible to all users. This includes using clear and understandable language, considering images and graphics to support the text and creating user-friendly navigation.

With Aprenia 7.2, we are not only providing an advanced knowledge management platform, but we are also actively promoting inclusion. We want to ensure that everyone has the same opportunities to expand their knowledge and improve their skills. By making accessibility an integral part of our platform, we are helping to create an inclusive learning experience for all learners.

We are proud of our progress in terms of accessibility and will continue to work on improving our platform in the future. We want to ensure that U2D Aprenia is accessible to all users and helps them reach their full potential. Because we firmly believe that everyone has the right to education and personal development, regardless of potential barriers.
Learning trends 2024: Journeys
Let's take a look into the future of learning and consider the learning landscape of tomorrow. One of the key trends in e-learning for 2024 is learning paths. U2D Aprenia seamlessly adapts to this development and offers innovative methods for effective knowledge management. Find out more about the exciting trends for 2024!
Conclusion and outlook
U2D Aprenia 7.2 brings a breath of fresh air to your knowledge management. The new features not only offer more control, but also a demonstrable improvement in your learning experience. The future of learning looks bright, and U2D Aprenia is a reliable partner along the way.

Interested? Visit the official U2D Aprenia website for more details. Do you have any questions or suggestions? Feel free to share them in the comments. And don't forget to share this article with your colleagues!